Interference and Sparkle Mica
A brilliant high chroma blue, green, gold, violet and red coated mica.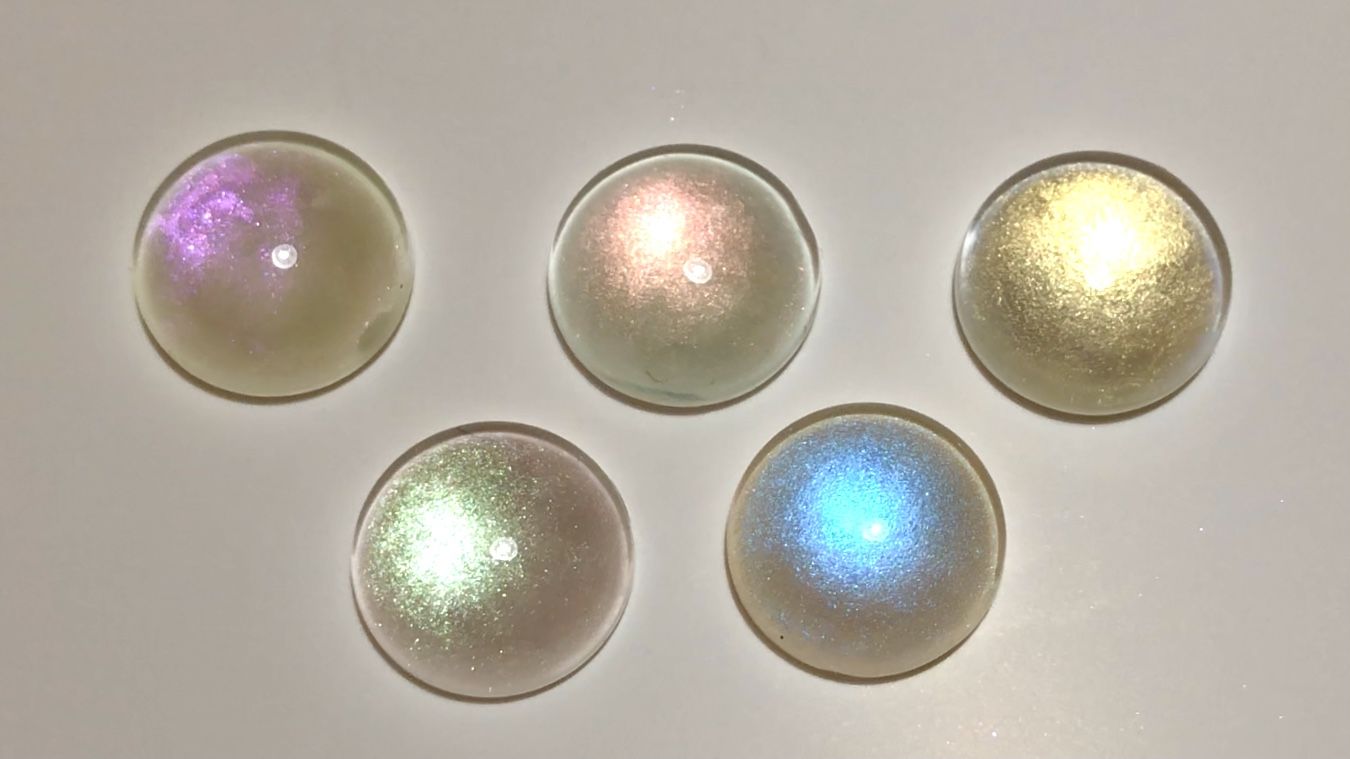 INTERFERENCE AND SPARKLE MICA ​
We search for unique and rare minerals to create our signature blends.  Our signature "moist" mix into Acrylic paint bases OR resin. Mix together to create custom colors. OUR Eco-Friendly GREEN formula boasts a limitless shelf life.  Made in the USA.
INTERFERENCE AND SPARKLE MICA ​
Bling It will add pure magic to acrylic painting, fluid art painting, resin and abstract paint projects. Clean up is dependent on the binder used. Acrylic will wash off with soap and water.
Epoxy is washed off with alcohol. When working on large projects please work in a well-ventilated area and take all safety precautions needed.
Learn More About BLING IT
INTERFERENCE AND SPARKLE MICA
FOR BEST RESULT, TURN PHONE TO
LANDSCAPE VIEWING
Image
Name
SKU
Price
Quantity
Action

Five

/ 30 ml. jars filled by volume Est. Pigment weight/ total 95 grams 

Interference 5-pc combo Gold, Green, Blue, Violet, Red  30 ml jar

BLINGIT-502

Five

/ 30 ml. jars filled by volume Est. Pigment weight/ total 93 grams 

Sparkling Gold, Green, Blue, Violet, Red  - use add a touch of Sparkle and Bling to your projects

BLINGIT-501

Intense Prismatic Rainbow of colors Blue, Red, Green, Violet, Gold Pure minerals and Mica no color added

Choose between 30 ml jar $8.50- or 60-ml jar $14.99.

BLINGIT-355-1

Sparkling Rainbow of AB colors Blue, Red Green, Violet, Gold

Choose between 30 ml jar $8.50- or 60-ml jar $14.99.

BLINGIT-355

Choose 60 ml jar OR 30 ml Jar 

Interference Blue "Satin" Sheer Blue Pearl- use to lighten or accent

BLINGIT INT Blue

Interference Gold Satin Sheer Gold  Pearl- add color shift effect to your resin and acrylic projects

Choose between 30 ml jar $8.50- or 60-ml jar $14.99.

BLINGIT-306

Interference Green Satin Sheer Green Pearl- add color shift effect to your resin and acrylic projects

Choose between 30 ml jar $8.50- or 60-ml jar $14.99.

BLINGIT-609

Interference Red  Satin Sheer Green Pearl- add color shift effect to your resin and acrylic projects

Choose between 30 ml jar $8.50- or 60-ml jar $14.99.

BLINGIT-310

30 ml. jar filled by volume Est. Pigment weight/ 19 total grams

Interference Violet "Satin" Violet Pearl- use to lighten or accent

BLINGIT-308

Milky Way - Sparkling white in a multi-color pearl perfect in resin or acrylic projects

Choose between 30 ml jar $8.50- or 60-ml jar $14.99.

BlingIT-370

Translucent-Iridescent multi-colored satin pearl to lighten colors

Choose between 30 ml jar $8.50- or 60-ml jar $14.99.

BLINGIT-617

Sparkle Blue - Large particulate translucent gold, add a flash of diamond sparkle to your resin or acrylic projects

Choose between 30 ml jar $8.50- or 60-ml jar $14.99.

BLINGIT-302

Sparkle Gold - Large particulate translucent gold, add a flash of diamond sparkle to your resin or acrylic projects

Choose between 30 ml jar $8.50- or 60-ml jar $14.99.

BLINGIT-601

Sparkle Green - Large particulate translucent gold, add a flash of diamond sparkle to your resin or acrylic projects

Choose between 30 ml jar $8.50- or 60-ml jar $14.99

BLINGIT-304

'-Sparkle Red - Large particulate translucent gold, add a flash of diamond sparkle to your resin or acrylic projects

Choose between 30 ml jar $8.50- or 60-ml jar $14.99.

BLINGIT-305

Sparkle Blue - Large particulate translucent gold, add a flash of diamond sparkle to your resin or acrylic projects

Choose between 30 ml jar $8.50- or 60-ml jar $14.99.

BLINGIT-303