Vivid Intense Fluid Acrylics
Are highly pigmented, permanent colors with a high flow consistency. Produced from lightfast pigments, they contain no fillers or extenders. Vivid Intense Fluid Acrylics are ideal for pouring techniques, staining, brushing and for spraying.
Created for artists who want a low-viscosity, pigment-saturated paint. Vivid Intense contain high pigment levels suspended in just enough acrylic polymer to flow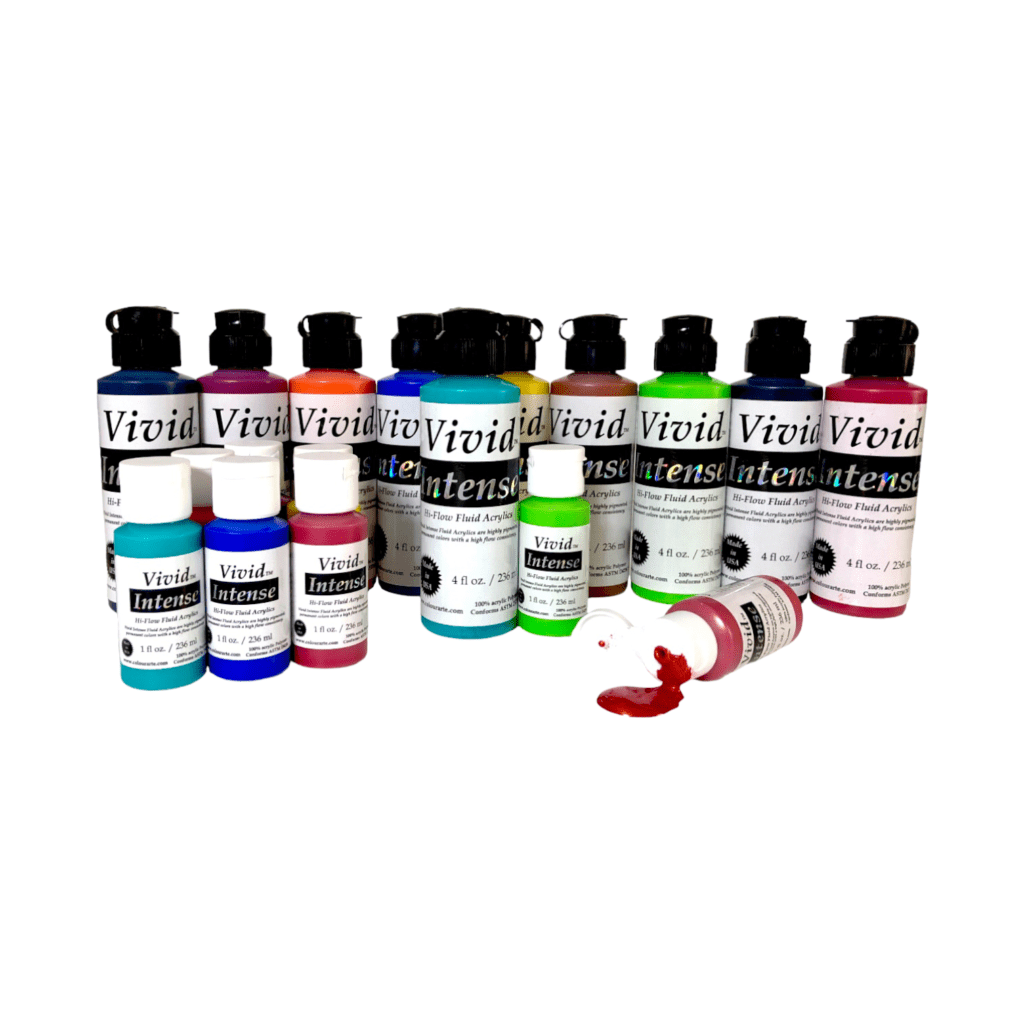 View Videos about Vivid Intense
Vivid Intense
Artist Grade Colors
Pure Permanent artist grade colors mixed in just enough medium surface tension acrylic to flow 
600 % more color saturation than PrizmPour 
500 % more color saturation than any tube or bottle paint 
Deepen or modify your favorite tube paints, or pigments 
To tint clear base 
To change or modify a color 
To intensify a color 
PrizmPour: Add a few drops at a time to modify or deepen colors 
Primary Elements; Mix up your PE then add a drop or two at a time to deepen or modify color. 
BlingIT: Mix up your minerals in media, then add a drop or two to modify or deepen color
Varnish : Mix 1 -3 drops one ounce of Varnish 
Acrylic mediums: Pour 1/3 oz of acrylic in cup, add 1-2 drops, mix color. Add balance (2/3 oz) of acrylic blend into smooth consistency. 
Heavy gel medium: Using a palette knife, mix 1-4 drops with 1/2 oz gel medium. Mix until color particles are broken down. Add balance 1/2 oz gel medium mix until color is evenly distributed. 
Glazing medium: Pour 1/3 oz glazing medium in cup. 1-3 drops, mix color into a paste.  Add balance 2/3 oz and mix into a smooth glaze.
modify or deepen paints or texture paste:
Add a drop or two at a time until the desired color is achieved.
To tint clear base 
To modify a color 
To intensify a color