Custom blended by mixing various shimmering micas and other minerals. Mix our unique one-of-a-kind color into any acrylic available mediums or resin.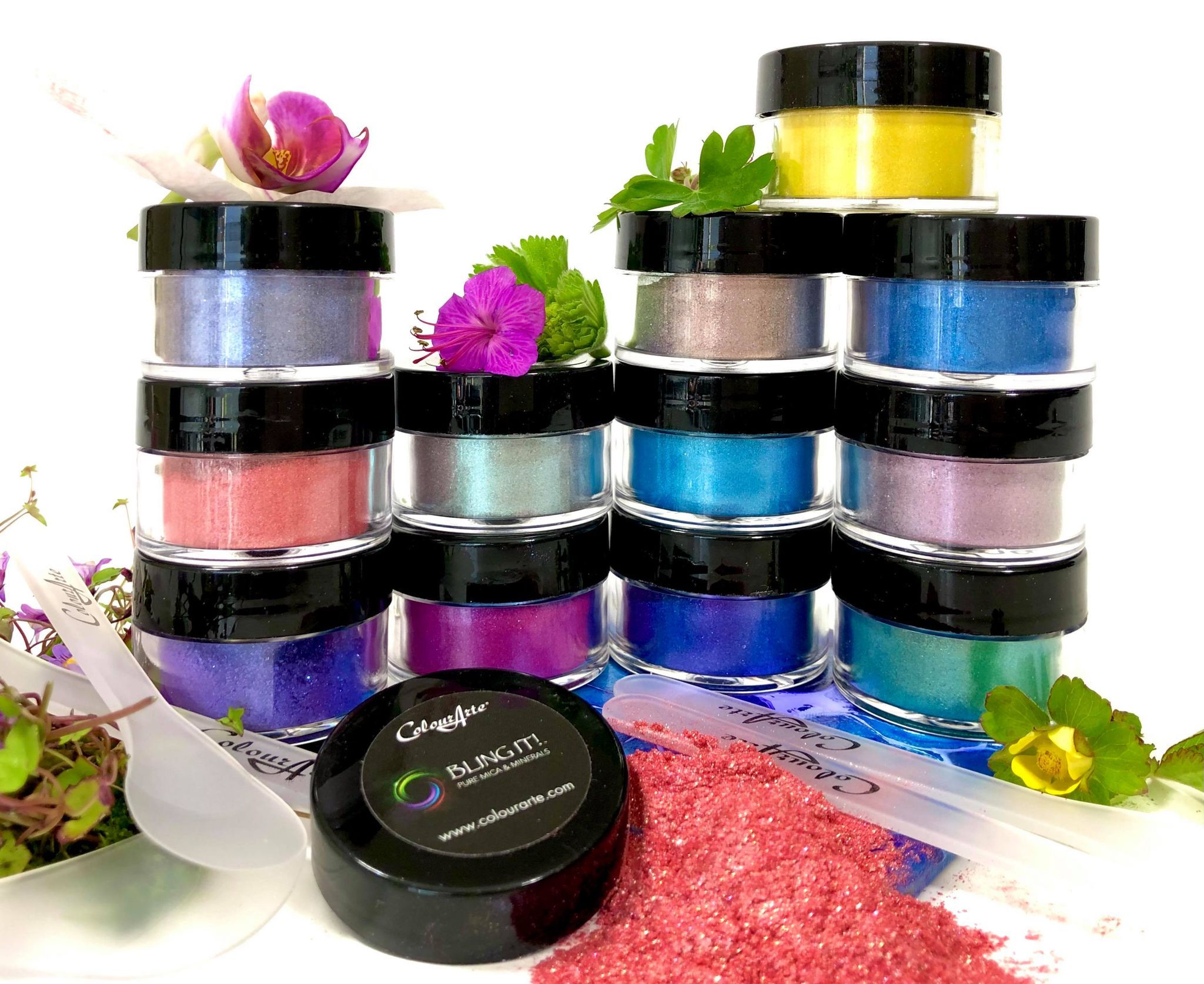 Bling IT Colour Magic Series is brilliant mica blends that shift and change as they move and play with the light. Fabulous in Resin/ Epoxy projects or your favorite acrylic painting projects.
Bling It will add pure magic to acrylic painting, fluid art painting, resin and abstract paint projects. Clean up is dependent on the binder used. Acrylic will wash off with soap and water.
Epoxy is washed off with alcohol. When working on large projects please work in a well-ventilated area and take all safety precautions needed.
Learn More About BLING IT
FOR BEST RESULT, TURN PHONE TO
LANDSCAPE VIEWING
Image
Name
SKU
Price
Quantity
Action

Glass Wing Butterfly Colors:  Rain, Aurora, Angel Wings, Luna, Meadow, Byzantine, Chalcedony,Indigo, GlassWing, Isadora, Parisian Lily, and Oasis

Set includes 12 Bling It 15 ml jars,  (1) pack of 5 mixing paddle 24 scoops

BlingIT 101

From the " Glasswing Butterfly set  " Angelwings- Smokey Blue opal in shimmering blue pearl 

30 ml. jar filled by volume Est. Pigment weight/ 20 total grams

BLINGIT-701

From the " Glasswing Butterfly set  " Aurora - Smokey Red Opal in a Sparkling Red Pearl 

30 ml. jar filled by volume Est. Pigment weight/ 20 total grams

BLINGIT-709

From the " Glasswing Butterfly set  "

Byzantine - Brillant Blue in Blue Pearl

30 ml. jar filled by volume Est. Pigment weight/ 20 total grams

BLINGIT-712

From the " Glasswing Butterfly set  " Chalcedony: Perriwinkle Blue Violet in Blue Pearl 

30 ml. jar filled by volume Est. Pigment weight/ 20 total grams

BLINGIT-704

From the " Glasswing Butterfly set  "

GlassWings – Rose Peach in Warm Gold Pearl

30 ml. jar filled by volume Est. Pigment weight/ 20 total grams

BLINGIT-705

From the " Glasswing Butterfly set  "

Indigo-Deep Blue with a touch of Blue Violet Pearl

30 ml. jar filled by volume Est. Pigment weight/ 20 total grams

BLINGIT-708

From the " Glasswing Butterfly set  " Isadora-Bright yellow in Golden Pearl named after the infamous Isadora Diamond  

30 ml. jar filled by volume Est. Pigment weight/ 20 total grams

BLINGIT-707

From the " Glasswing Butterfly set  " Smokey Violet opal in shimmering violet pearl

30 ml. jar filled by volume Est. Pigment weight/ 20 total grams

BLINGIT-710

From the " Glasswing Butterfly set  " Meadow:  Succulent green in Green Pearl  

30 ml. jar filled by volume Est. Pigment weight/ 20 total grams

BLINGIT-703

From the " Glasswing Butterfly set  " Oasis - Sparkling Turquoise in green-blue shift 

30 ml. jar filled by volume Est. Pigment weight/ 20 total grams

BLINGIT-706

From the " Glasswing Butterfly set  " Parisian Lily-Rose pink with a -blue shift in Pink -Blue Pearl 

30 ml. jar filled by volume Est. Pigment weight/ 20 total grams

BLINGIT-702

From the " Glasswing Butterfly set  " Rain- Smokey Green opal in shimmering green  pearl

30 ml. jar filled by volume Est. Pigment weight/ 20 total grams

BLINGIT-711