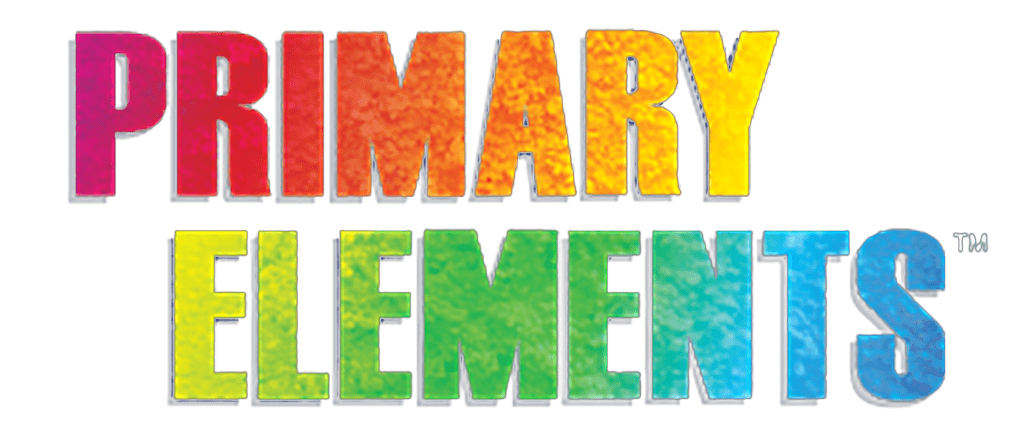 ColourArte' s original "dry paint" art pigments were designed to give the artist a toolbox of custom blended colors made by mixing pure ground color with shimmering micas and other minerals.
-Mix our unique one-of-a-kind coloring system into one of our Vivid acrylic binders or the numerous other binders on the market to create custom blended acrylic paint, glazes, watercolors, textured paint, or impasto paints. 
-Primary Elements will add pure magic to acrylic art, fluid art painting, and abstract paint projects. 
-Clean up with soap and water. 
-For large projects please work in a well-ventilated area.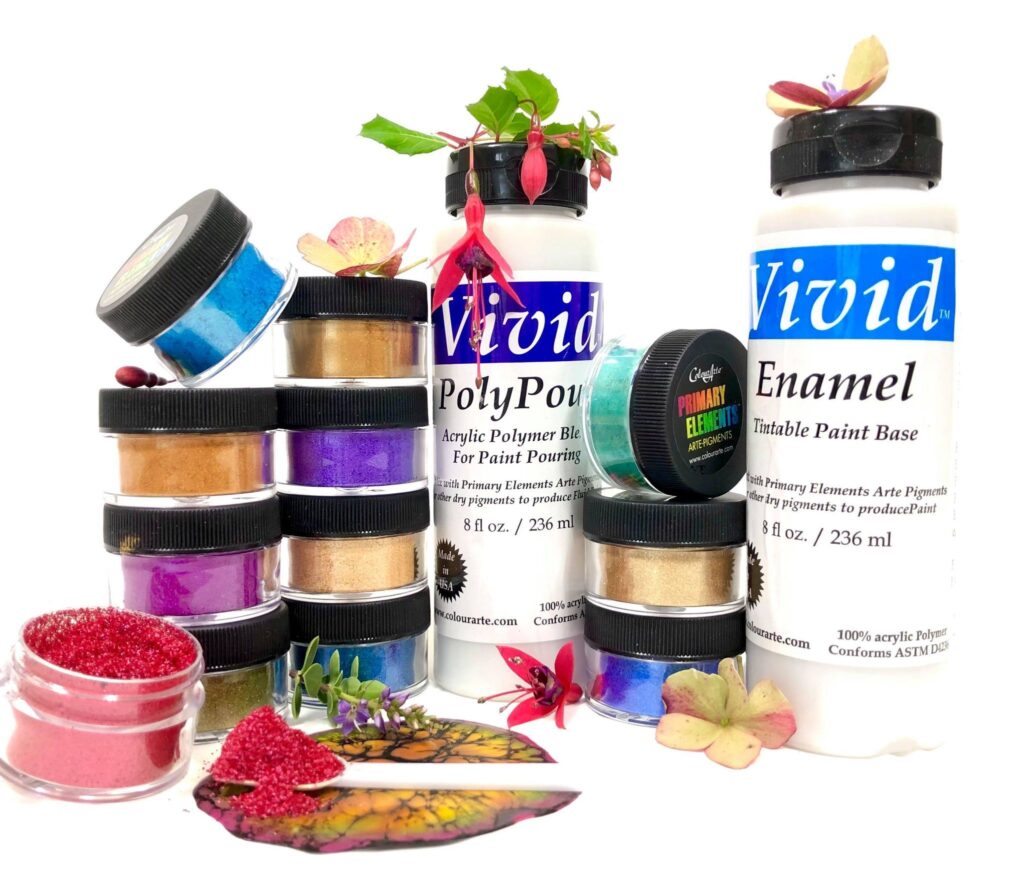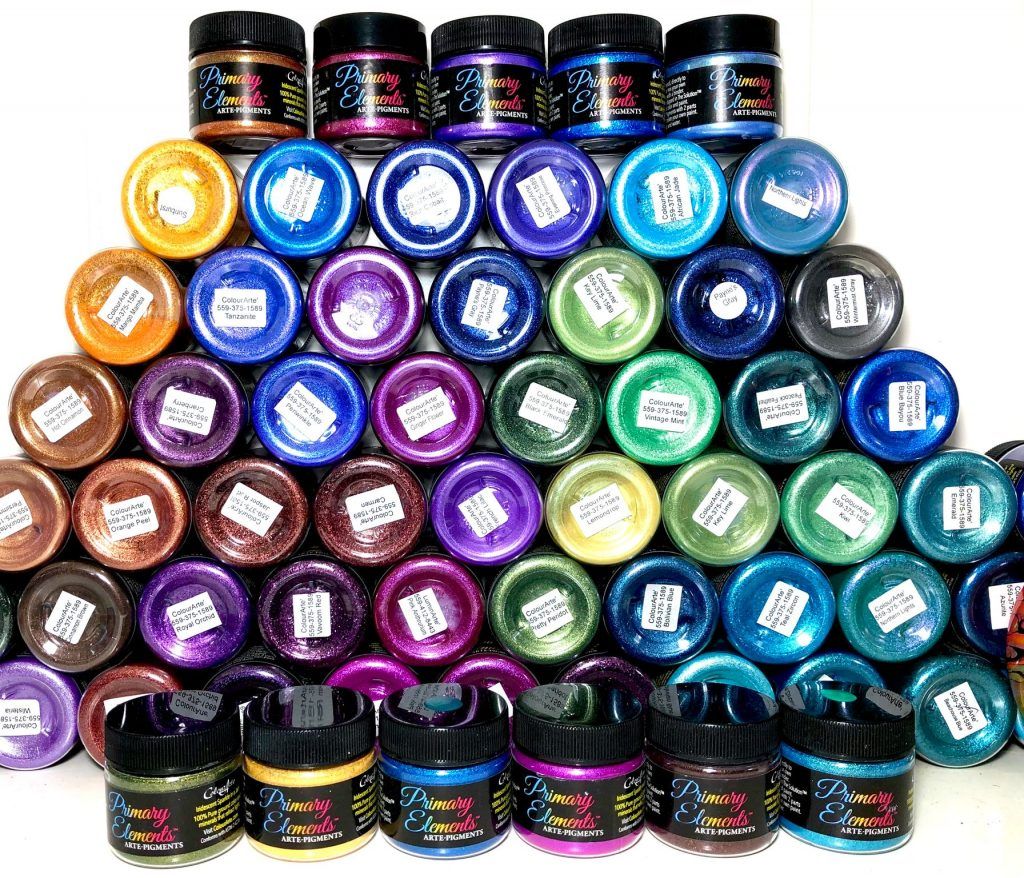 Primary Elements has over 500 Colors in the library
Currently, we do not have a way to offer all 500 colors at once so here is how the lineup looks.
Primary Elements 15 ml jars: 24 loose colors in samplers jars for reorders or beginners 
Primary Elements 30 ml jars: Over 70 loose colors in the 30 ml jar 
Primary Elements Glitz 30 ml jars: 37 colors from the Glitz collection with an extra bit of twinkly sparkle.
-NEW Limited-edition sets are released every 4-6 weeks they are either new color blends or sets created using popular colors from the library vault
-We offer (2) Standard 12 PC sets "Primary Colors" and "Bright Blooms" both sets include (Two) 8 oz bottles of Vivid acrylic medium (1) PolyPour and (1) Enamel Plus 24 scoops
-The Big Enchilada 60 Piece Collection: 10% off list price 60×30 ml jars (1) 32 oz bottle of Vivid PolyPour and (1) 32 oz bottle Vivid Enamel (3) 24 Pc package of scoops 72 total
-An additional most requested limited-edition set will make an appearance for 6 months and then be swapped out.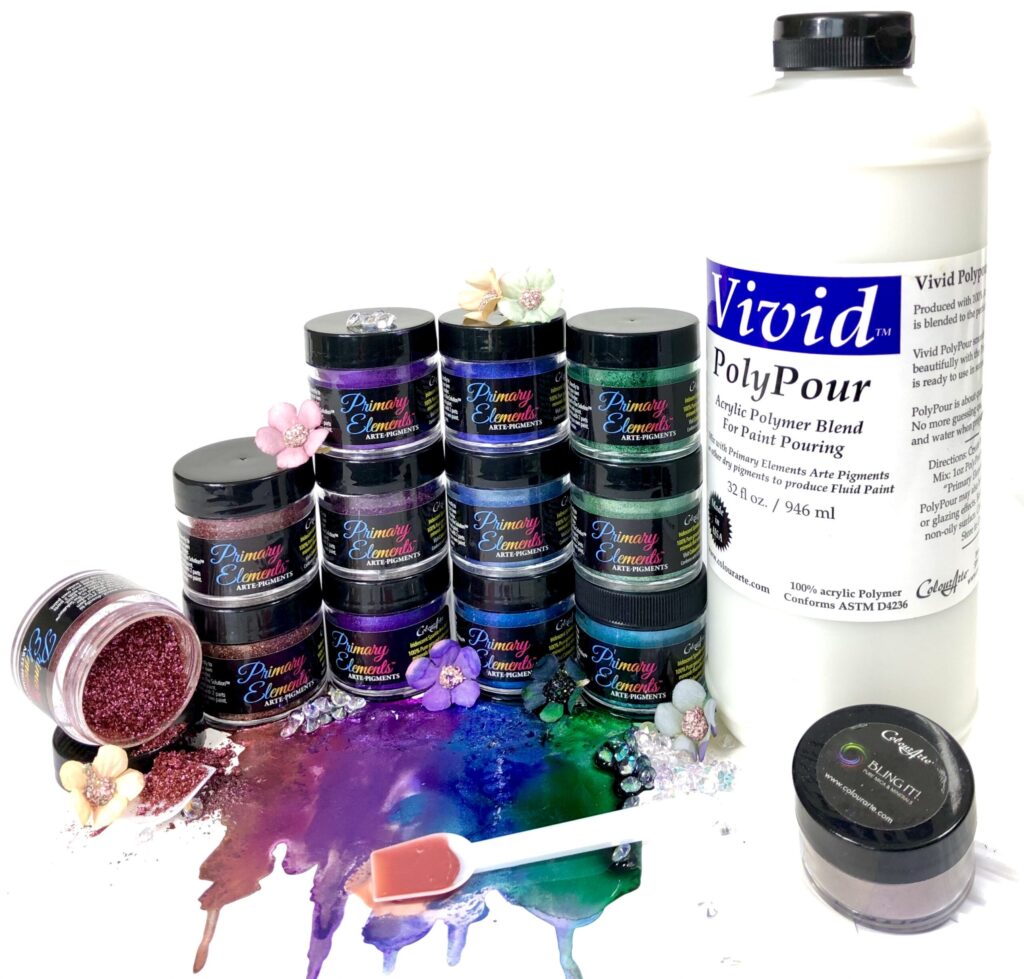 Primary Elements Dry Paint Sets
Primary Elements 30 ml individual jars
Primary Elements 15 ml individual jars
Primary Elements Glitz Collection
For over 22 years ColourArte has forged a path in the paint industry by introducing a unique one-of-a-kind paint product. ColourArte coined the term "dry paints" by creating pigments mixed with pure ground color and shimmering minerals. Team ColourArte is proud to be producing pigment systems compatible in both resin and acrylic mediums.
ColourArte has also been a leader in creating shimmering liquid paints using the most exotic mica and shimmering minerals imported from around the world. Add pure magic to your fluid art and acrylic painting projects. The only limitation is your painting imagination.